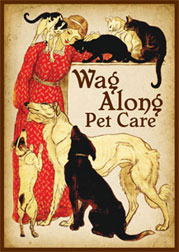 Do you dread the idea of leaving your dog in a kennel when you travel?
Do you hate the thought of your dog being stuck in a crate?
Do you wish you could travel without constantly fretting about the well-being of your pet?
Wag Along Pet Care to the rescue! I provide a dog boarding experience unlike any standard type kennel. Dog boarding with Wag Along Pet Care means a vacation for your dog while you are away! I provide a boutique style bed and breakfast experience. Let us become your dog's home away from home, a place your dog looks forward to visiting.
Boarding can be fun for your dog, if you chose Wag Along Pet Care
Dog boarding at Wag Along Pet Care:
When your dog comes to stay with me, I treat him or her as a member of my own family. Before accepting a dog for boarding, I carefully screen to make sure that the temperament of the dog is a fit for my home environment and the other dogs staying with me. If your dog is well socialized, he or she will get to have fun with other dogs, including free play in the fully and securely fenced-in back yard.
Wag Along is not a kennel – we are an in-home full care boarding facility that treats your cherished dog like a pampered royal guest. I take in only as many dogs as I have time to properly care for, exercise and socialize with, and I treat each and every one like family. My goal is for your pet to be as comfortable during their stay with me as they are in your own home. If your dog does not want to be out in the back playing with others, I am happy to have company where ever I am, in the office, in the kitchen, doing laundry, or hanging out on the couch.
The downstairs part of my home is one large "living room for dogs" including private sleeping quarters for night-time, and a comfy couch to lounge on. If a dog is a return guest, I make sure that their boarding quarters for night-time is reserved for them… dogs do love their routines and tend to get attached to their own chosen spot.

Supervision All Day
Your dog will be supervised all day long and during the warm season they are given free access to the back yard, with the choice of coming in to the house whenever they want.
Soothing classical music is always playing (24 hours).
At night I tend to be a couch potato, and the dogs love this! Why? Because they hang out with me watching TV…  just as if they were at home.
If your dog has medical needs I will administer any medication they need.
If your dog has special dietary needs they will be accommodated.
If a medical issue arises during your dog's stay with us, we will of course get your dog medical attention.
I will provide updates for you, sending texts and pictures, to let you know how your dog is doing.
Do you have a puppy? We welcome the young ones as well as elderly dogs with special needs.
Careful Introductions
I carefully introduce any new guest to the current group of dogs to make sure that all goes well. A new dog boarding guest will meet with the other dogs one at a time, not the whole group at once. I carefully monitor to get a sense of personality and compatibility.
Isn't it time to transform dog boarding to a dog vacation? Please come for a visit and see for yourself how your dog will be treated when staying with me and why I confidently say that Wag Along Pet Care provides a superior boarding experience for your four legged family member.